Robert Abbe (1851-1928) was a surgeon and pioneer radiologist in New York City. He was born in lower Manhattan and educated in NYC's public schools. He attended the College of the City of New York (S.B., 1870) and Columbia University's College of Physicians and Surgeons (M.D., 1874).
Abbe was best known as an innovative plastic surgeon, particularly for developing a procedure for repairing hair lip deformities (now commonly known as the Abbe Flap), and for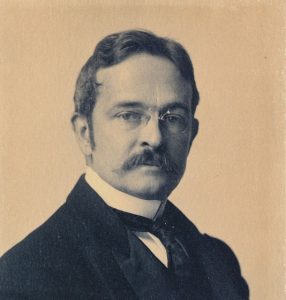 pioneering the use of radium as a treatment for various medical conditions. His many published articles document the breath of his surgical experience and the successes he had using radium to treat patients.
He served as a surgeon at the New York Hospital, St. Luke's Hospital, Roosevelt Hospital, and the New York Babies Hospital, and was also a professor of surgery at the Women's Medical College of New York, The New York Post-Graduate Medical College, and the College of Physicians and Surgeons.
In his free time, Abbe enjoyed drawing, painting oil portraits, and watercolors, and the emerging art of photography. During his later years he spent summers in Bar Harbor, Maine where he developed an interest in the Native American population of the area. He began collecting Native American tools and artifacts that he found in the area and in Stone Age relics he found on Mount Desert. He dreamt of creating a museum to display his extensive collection, and raised funds to do so.  Unfortunately, he did not survive to see his dream fulfilled; the museum, which carries his name and still operates, opened a mere five months after his death of anemia at age 77, most likely due to handling radium.
A small collection of his papers and many reprints of his articles are open to researchers at the Mount Sinai Archives.  The collection guide is available on the Archives web site,   http://icahn.mssm.edu/about/ait/archives/collection/robert-abbe.