On December 10, 1927, the St. Luke's Hospital celebrated a long-standing goal, the dedication of the St. Luke's Convalescent Home in Greenwich, Connecticut. The newly constructed buildings were attractive, comfortable and able to provide space for eighty-five patients, and included space for administrative offices, the culinary department, nurse's quarters, and laboratory and operating facilities. The hospital began admitting patients on December 20. All of this was thanks to the 1925 gift of 200 acres of property called Byram Woods by Mrs. Hicks Arnold. The Board of Managers called it "the great event of the past year." The land came with an additional gift from Mrs. Arnold of $1 million of which $500K was earmarked for the construction of the convalescent hospital, and $500K as an endowment.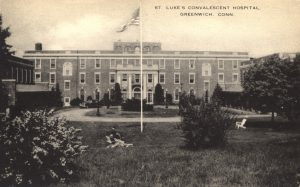 Since 1919, St. Luke's had been looking for just such a donation to relieve the Hospital of the many patients that were recuperating or rehabilitating at the Hospital, taking up beds needed for more acute care cases. In fact, from the early years of the Hospital, the Managers frequently sought convalescent space for those patients who no longer needed acute care, but still needed to recuperate or rehabilitate under medical and, at times, surgical supervision. If possible, the ideal spot would be within a twenty-five mile radius of the city, in a rural area where patients, especially children, could benefit from space, sunshine, and fresh air. Most of the early locations, on Long Island and in New Jersey, were second homes, loaned to St. Luke's for a period of time, or were independent convalescent hospitals that took in St. Luke's patients. For a while, St. Luke's had an exclusive relationship for convalescent care with St. Johnland Hospital, in King's Park, Long Island, but only for about 30 children. Over time, the Board of Managers realized they need a larger and more permanent facility. Indeed, soon after the new building was opened, plans for its expansion began, so great was the demand.

In 1930, an additional gift from Mrs. Arnold provided the funding for the construction of a separate children's wing. Dedicated as the Arnold Children's Pavilion, it had a capacity of forty-seven children, increasing the Hospital census to one hundred thirty four, (and increasing the degree of quiet for the adult patients, a Board member noted with a smile). It also protected each population from communicating outbreaks of contagious illness to the other, such as flu or diphtheria, etc. The Arnold Children's Pavilion opened in May of 1932.
The staff tried to keep daily life similar to regular home life. For the children, that meant school. A teacher-recreational director helped to keep the young ones current with their appropriate public school grade, as well as providing all manner of health-building activities. The hospital had a large schoolroom and playroom with a gymnasium and plenty of out-door space for walks and games if children were able.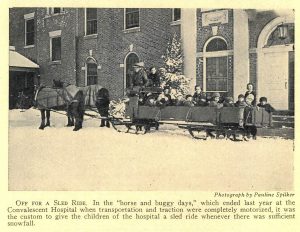 In the winter, a large sled pulled by horses provided rides in the fresh air, with lots of warm blankets for patients to snuggle under. A large sunporch provided a space where less mobile patients could enjoy the outdoors from inside while playing cards, board games, pool, billiards, ping-pong, or bingo, etc. In the warmer weather outdoor games such as croquet, golf and quoits were available.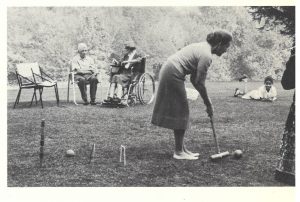 A duck pond entertained both children and adults. The chapel offered daily morning prayer and weekly worship services for the faithful. Patients could also volunteer to do light chores in the building or on the premises if they were of a mind to do so. In the early 1940s a Hospitality Shoppe was opened in the hospital, giving patients a place to go 'out' and have a cup of coffee or a soda with friends and buy small items that might be needed during a long stay.
Lest this makes the Hospital sound like a vacation spot, it is necessary to note that a complete medical staff was available to supervise the progress of each patient and a fully outfitted rehabilitation section was available for those needing physical rehab. In addition to the
 Attending and Consulting staff of physicians and a Resident physician living on-site, other specialists included physical therapists, social workers, occupational therapists, dietitians, nurses, recreation leaders, laboratory technologist, and pediatrics specialists.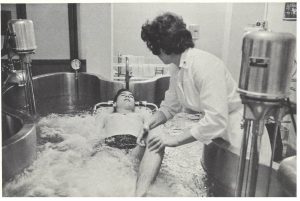 Over time, improvements in medical technology, changes in Hospital leadership, finances, and hospital goals, as well as lifestyle changes of the city population, led to the decision to relocate convalescent hospital functions back onto the city campus. In 1964, the Byram Woods campus closed and the property sold and used for other purposes.