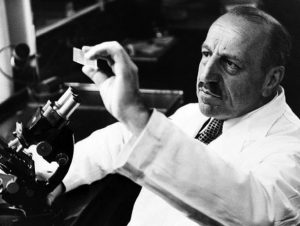 George Nicholas Papanicolaou was born in the seaport town of Kymi, on the Greek island of Euboea, on May 13, 1883. He entered medical school to please his father, Nicholas, who was a physician, and the mayor of their town. He graduated medical school in 1904. In 1906, after completing military service obligations, he joined the family practice, but was more inclined to scientific research.
[photo: George Nicholas Papanicolaou (1883–1962) (obtained by public domain at http://www.hmsny.org/en/archivesgallery/news-bulletins/hms-ny-news-April-2012.html). ]
In 1907, he moved to Germany to study zoology, earning a PhD in 1910. Afterwards, Papanicolaou worked as a physiologist. In 1913, he and his wife immigrated to New York. He worked in various odd jobs for a time until he was able to find part-time employment in the Department of Pathology and Bacteriology of the New York Hospital. A year later he moved to the Department of Anatomy at Cornell Medical School and worked as an assistant; his wife was hired there as his technician.
His assignments included studying sex determination in guinea pigs. Part of this testing required harvesting the animals' eggs just before ovulation, a guessing game that usually meant killing many of them before finding an animal at the right stage to be useful to the study. Instead, Papanicolaou developed a method to chart a guinea pig's menstrual cycle by using a nasal speculum to take vaginal swabs and preparing a smear slide, which, under a microscope displayed distinctive cytologic patterns that helped him predict ovarian status. Eventually he broaden this method to human subjects to study similar smears in women. (Some have speculated that his wife was his first subject in this study.) He was surprised to find malignant cells present in some of these smears, which led to further study. In 1928, he presented a paper on the smear procedure as a method to detect cervical cancer in women. Unfortunately, this report was not well received by the general field.
He began on a clinical study collaboration with Herbert F. Traut, MD, a gynecologic pathologist at Cornell, in 1939. During this study, Papanicolaou detected many asymptomatic cancer cases, some in such an early stage that they were undetectable on biopsy. Traut and Papanicolaou published a paper titled, "Diagnosis of uterine cancer by the vaginal smear," in 1943, which was a step forward in accepting the 'Pap smear' a standard procedure for detecting and preventing cervical cancers.
Why am I telling you this? Dr. Papanicolaou served as consulting OB-GYN staff for St. Luke's – Woman's Hospital Division from the 1956 to the early 1960s.