The Arthur H. Aufses, Jr. MD Archives is pleased to share that we recently received a 2023 Digitization Project Grant from the Metropolitan New York Library Council (METRO) to digitize a selection of material from the Mount Sinai Beth Israel collection. METRO's Digitization Project Grant is designed to support digitization projects for METRO members to enhance the quality and accessibility of library and information resources in the metropolitan New York region. The selection for this grant will be the largest body of digitized materials related to Mount Sinai Beth Israel (MSBI) to date.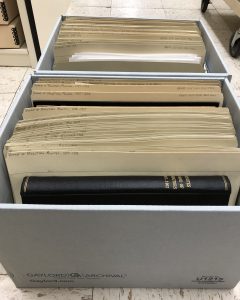 Selected material spans from across the history of MSBI. Beginning as a form of Jewish mutual aid to care for marginalized workers and their families living in tenements, the hospital grew to treat and research many of the most pressing issues of the time and the history of the hospital is deeply intertwined with that of the neighborhood. Over its 133-year history, this has included caring for the sick during the Influenza Epidemic of 1918; the development of the Methadone Maintenance Treatment Program in the 1960s, one of the first ever methadone clinics; being an early responder in treating and caring for patients during the AIDS crisis in the 1980s; and responding to the present COVID-19 pandemic. The Beth Israel records broadly document the history of the hospital, and the digitization of this material will allow Beth Israel to be more easily included in historical research related to the broader scope of healthcare in metropolitan New York. At the grant period's end, more than 7,000 pages of material will be newly available through our catalog.
A big thank you to METRO for their support! You can learn more about past grant recipients and their projects here. 
Authored by Stefana Breitwieser, Digital Archivist