On February 7, 2017, the Mount Sinai Archives presented a program called "Treasures from the Mount Sinai West Historical Collections."  Mount Sinai West's library was host to this historical exhibit featuring materials from the early Roosevelt Hospital collections, coupled with a description and historical context provided by archivist, Michala Biondi. The exhibit featured original photographs, ledgers, and artifacts highlighting various stages in the establishment and growth of Roosevelt Hospital. The talk started with a brief biography of founder James Henry Roosevelt (1800-1863) who intentionally led a frugal lifestyle in order to build a trust of nearly one million dollars to establish a hospital for the sick and diseased poor of the city.
Items on display included the Hospital's first patient case register (1871-1873), an employee log from the 1890's, the brass plaque commemorating the laying of the original complex's cornerstone in 1869, a bound volume of the first five annual reports of the hospital and pamphlets describing the early plans for building and staffing the hospital, items highlighting the establishment of the Roosevelt Hospital nursing school, open from 1896 to 1974, and its growth during the first decades,  and material describing and documenting Hospital employees' experience as part of a hospital unit during  WWI and an evacuation unit during WWII.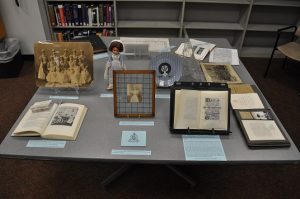 The employee log was of particular interest as it listed position titles and earnings, with occasional comments about the employee. Ms. Biondi noted that after the plant engineer, whose salary was listed as "one thousand dollars per annum with meals," the highest paid employees were the Directress of Nurses, who earned $60 per month, and the bookkeeper and operating room nurses, who each earned $50 a month. Other positions included baker, firemen, stablemen/driver, orderly, laundress, office or errand boy, and private duty nurses. These positions' salaries ranged from $40 per month to $3 per day, in that order.
The patient case book generated interest among several MSW doctors who came by to view the exhibit. Ms. Biondi highlighted a few of the patient cases, including a stone worker's accident resulting in a leg amputation at the knee, and an infection of a finger that progressed throughout the arm and led to the patient's death. Another case, described as a cerebral hemorrhage, was determined by a doctor who was present to more probably be a stroke, after reading the details of the description.  Everyone remarked over the very neat and legible 19th century handwriting.
A group of almost thirty guests came to view the event, including MSW President, Dr. Evan Flatow, who was happy to see Hospital materials on display.  The Archives staff was very pleased to be able to bring the Hospital's history to life for all attendees.