The Mount Sinai Archives continues to process a recently received collection of records and photographs that document the history of the Beth Israel Medical Center, today's Mount Sinai Beth Israel. Among the many fascinating documents in this collection are a collection of photographs and news clippings that document the life of Charles H. Silver, who served for 35 years as the Chairman of Beth Israel's Board of Trustees. The child of an impoverished Romanian Jewish immigrant family on the Lower East Side, Silver left school at age fifteen to become an office boy at the American Woolen Company, where he worked his way up the sales ranks and eventually retired as Vice President and Director.
Alongside his role as a hospital philanthropist, Silver was active in interfaith relations and worked to strengthen the relationship between New York City's Jewish and Catholic communities, becoming a close confidante of Francis Cardinal Spellman, Archbishop of New York, and his successor Terence Cardinal Cooke. In 1948 Silver served as chairman of the first Alfred E. Smith Memorial Foundation Dinner, which raises funds for Catholic charities. In gratitude for his exceptional fundraising efforts, the proceeds of which would help support New York City's Catholic hospitals, Cardinal Spellman presented him at the dinner with a surprise donation to Beth Israel. The Al Smith Dinner remains an important event in national politics, as it is traditionally the last event at which the two major-party candidates for President of the United States share a stage before the election.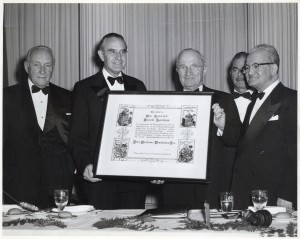 Above: Charles H. Silver, Governor Averell Harriman, President Harry Truman and others at a ceremony in honor of Harriman.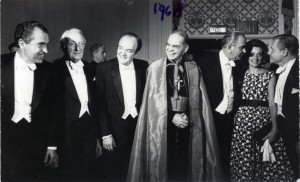 Above: Richard Nixon, Charles H. Silver, Hubert Humphrey, Terence Cardinal Cooke, President Lyndon Johnson, Margaretta "Happy" Rockefeller and Governor Nelson Rockefeller at the 1968 Al Smith Dinner.
In addition to his medical and political interests, Silver was a strong advocate of public education and served for six years as Chairman of the New York City Board of Education. The Silver collection in the Mount Sinai Archives includes photographs of Silver with every U.S. President from Truman to Carter, two of which are presented here. No full-length biography of Silver has yet been written, but his eventful career is an important part of the story of New York City in the twentieth century.