The Aufses Archives is happy to announce that it has received materials from William G. Hamilton, MD, donated by his wife, Linda Hamilton, PhD. William Hamilton was an orthopedic surgeon working with the Kathryn and Gilbert Miller Health Care Institute for Performing Artists at the Roosevelt Division of St. Luke's-Roosevelt Hospital Center. The Institute began in 1985 and served the performing artist community until the mid-2000s. He also was the first in-house doctor for the New York City Ballet. Dr. Hamilton treated many prima ballerinas as well as many major league athletes who sustained foot and ankle injuries. This collection contains the first materials we have which document the work of the Miller Institute.
Hamilton's whole career collection is huge, and includes dozens of photographs of various clientele, as well as ballet posters and team jerseys from pro basketball and baseball players, all in large frames and autographed by cast or team members. The collection also includes his many awards, certificates, and citations, instructional videos, PowerPoint presentations, and many sets of slides used in teaching and lectures on his foot and ankle repair techniques.
The Aufses Archives chose materials that were most germane to Dr. Hamilton's work at the Roosevelt Division. It includes articles, including an unpublished article that discusses using the marsupial meniscus of the ankle in dancers; his teaching videos and PowerPoint presentations; various hospital ID cards; his residency training diploma; several photographic tribute books honoring him, as well as several photographs of him with well-known dancers who were patients. My personal favorite item is a model of the bones of the foot in a delicate pink ballet slipper.
The remainder of Dr. Hamilton's collection was distributed to two other institutions. The New York City Ballet claimed the large number of dancer photographs and the rest of the collection was acquired by the NYU Health Sciences Library Medical Archives.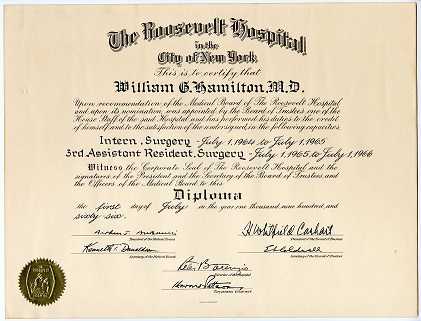 Additional information on this collection will be available in our catalog by early 2024.
Authored by Michala Biondi, Associate Archivist