Whenever you look back to the past, it is easy to find it all very strange, but a longer look allows us to see the threads that connect that time to this. Some of those threads are strong and enduring and others fray and end.
One of those strong threads that tie the Mount Sinai of 100 years ago to the Mount Sinai of 2020 is research and discovery. In 1920, Mount Sinai was dealing with the last wave of a deadly worldwide pandemic that had started in 1918 but still lingered. Some Mount Sinai physicians spent a great deal of time working on a "peculiar disease" that followed the epidemic. This was popularly called the 'sleeping sickness,' but doctors termed it epidemic encephalitis. Another Mount Sinai physician was lending his expertise as a member of a national commission that was established to deal with the ravages of empyema, which too often followed post-influenzal pneumonia. Other physicians were doing research on gastric diseases, leukemia, surgical innovations and cardiac problems – all topics that Sinai doctors continue to pursue.
Another main theme from 100 years ago, as in every decade of Mount Sinai's existence, was the physical changes being made on campus. The world war and epidemic had delayed the progress of the largest expansion plan ever envisioned by The Mount Sinai Hospital. First suggested in 1913, it was only in 1922 that all of the new buildings were completed and the renovations of older spaces finished. This resulted in a new Private Pavilion (our current Kravis Children's Hospital), a new pediatric pavilion and pediatric clinic building, a larger employee dormitory, a larger laboratory building, and a new auditorium to accommodate Mount Sinai's increasing educational efforts. The growth in the number of beds called for a larger house staff than before and allowed for the growth of new specialty services.
W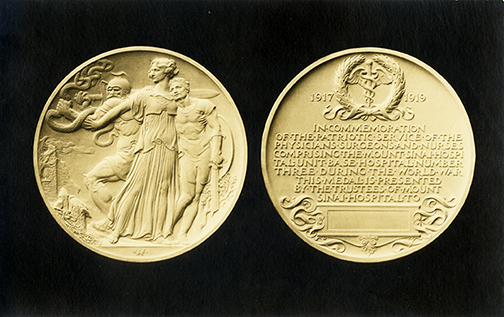 hile these themes have echoes with our current year, as does the perennial nursing shortage of that era (among many others), there was much that was unique to Mount Sinai in 1920. In February of that year, Mount Sinai leaders held an event to celebrate the staff that had served in the World War I Mount Sinai affiliated unit, Base Hospital No. 3. Special commemorative medals were given to each veteran.
The other topic of great interest in 1920 was the re-structuring of the medical staff to combine the in-patient and out-patient services under the in-patient chief of service. The Dispensary and the ward service had been two separate entities with limited overlap. The change allowed the clinic physicians to follow their patients when admitted to the hospital wards, and the ability to round and work with the in-patient staff made it more appealing to community physicians to take on clinic work. In the 1920 Annual Report, it was noted that the combined medical staff now numbered 250 physicians.
Certainly, times change. Institutions changes. Medicine changes. But even 100 years later, at Mount Sinai, some things never change.