Each January the Aufses Archives starts the New Year by installing a new exhibit highlighting events at Mount Sinai that are reaching a milestone anniversary. In 2021, that includes the celebration of the 175th anniversary of the founding of St. Luke's Hospital (today's Mount Sinai Morningside) and the 150th anniversary of the opening of Roosevelt Hospital (today's Mount Sinai West).  The Archives' staff uses images and original documents to illustrate the most important events, and tries to stick to 'round number' anniversaries, e.g. the 25th, 50th, 100th, etc.
Sadly, each year, that leaves us with a group of interesting milestones that are celebrating a 'not quite a big year.' Here are a few of those 'misfit' milestones for 2021.
1856 – 165 Years Ago
In its first full year of operation, The Jews' Hospital, later The Mount Sinai Hospital, admitted 216 patients with 129 cured and 14 deaths.  Of the 216 admissions, 16 were pay, 200 free. There were two births. The first baby born at the Hospital was called Isaac Touro, in honor of a bequest to the Hospital from him. The patient census varied from a low of 9 to a high of 28.  The budget for the year was $5493.76. There were nine paid staff members: two doctors, a Superintendent, nurses, cooks, and domestics.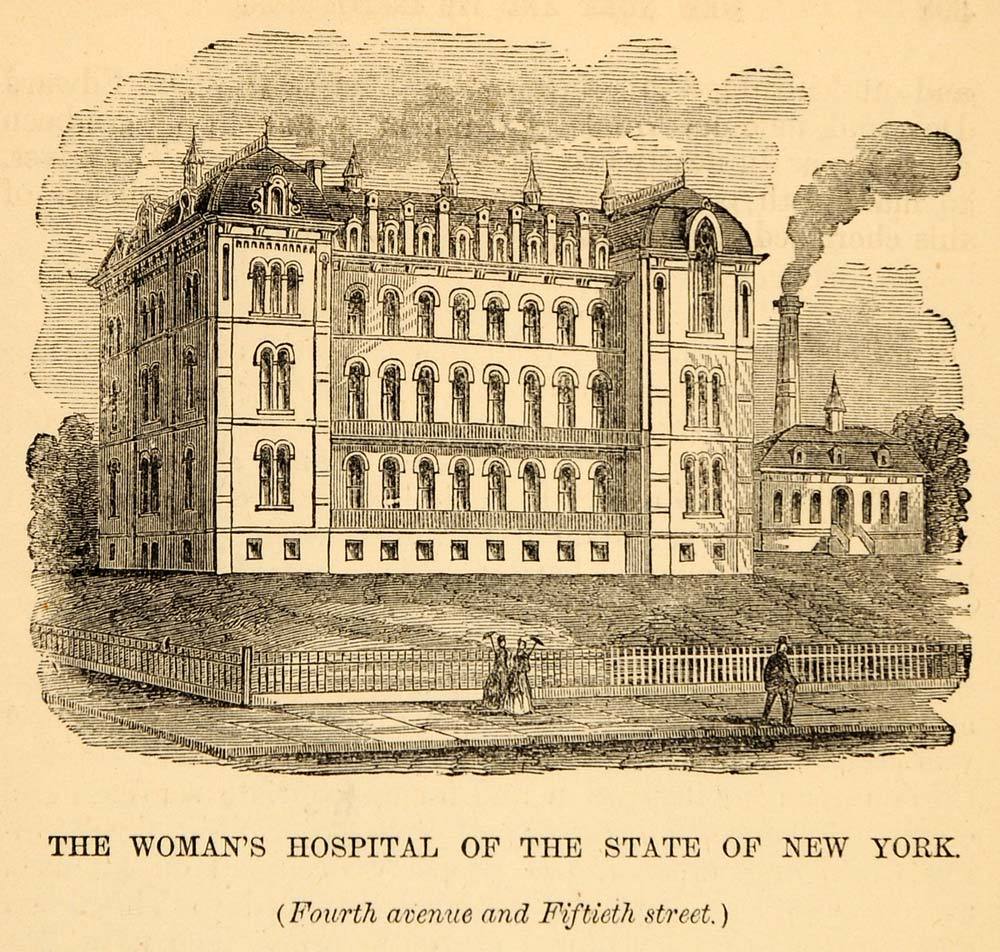 1866 – 155 Years Ago
May 23: the corner stone was laid for a new building between Lexington and Fourth Avenues and 49th and 50th Streets to house the Woman's Hospital in the State of New York, an institution that would later merge with St. Luke's Hospital. The City of New York had conveyed the deed to this block to the hospital in 1857. It had been a Potter's field or Stranger's Burial Place and filled with coffins.  It was noted that more than 35,000 had to be removed before the hospital could be built.
1871 – 155 Years Ago:
On July 12, The Mount Sinai Hospital cared for 25 people injured in the nearby Boyne Day riot, which saw Ulster Scots Protestants holding a parade, protected by NYC Police and State National Guardsmen, with Irish Catholic laborers protesting the celebration. Over 60 people died and more than 150 people were wounded, including 22 militiamen, 20 policemen injured by thrown missiles, and four who were shot, but not fatally.
1881 – 140 Years Ago
William Halsted, MD, organizes an outpatient 'dispensary' (Out Patient Dept.) in the basement of the main Admin building at Roosevelt Hospital and remains its director until 1886.
1891 – 120 Years Ago
May 10: Beth Israel Hospital moves to 196 Broadway. This is the first BI location to include inpatient beds in addition to an outpatient dispensary; there are twenty beds. The hospital includes two house staff to provide 24 hour care.
1906 – 115 Years Ago
The Beth Israel Hospital Social Service Dept. is created.
1936 – 85 Years Ago
A Department of Hematology established at the Beth Israel Hospital under the direction of Dr. Louis Greenwald.
1946 – 75 years ago:
The Mount Sinai Hospital opened the first lab in this country dedicated solely to pancreatic disease research; led by Drs. David Dreiling and Henry Janowitz.
1951 – 70 Years Ago
St. Luke's Hospital Board of Trustees welcomes its  first women members: Mrs. F. Huntington Babcock (Dorothy Doubleday Babcock) and Mrs. William Gage Brady, Jr.
1956 – 65 Years Ago
Hugh Fitzpatrick, MD, performs the first open heart repair of a septal defect in New York City at St. Luke's Hospital.
2001 – 20 Years Ago
The Beth Israel Multimedia Resources Training Center opens. It is a joint project of 1199 SEIU and BI's Department of Training and Organizational Development to train 1199 members in basic computer skills.